BURN FOR YOU IS LIVE!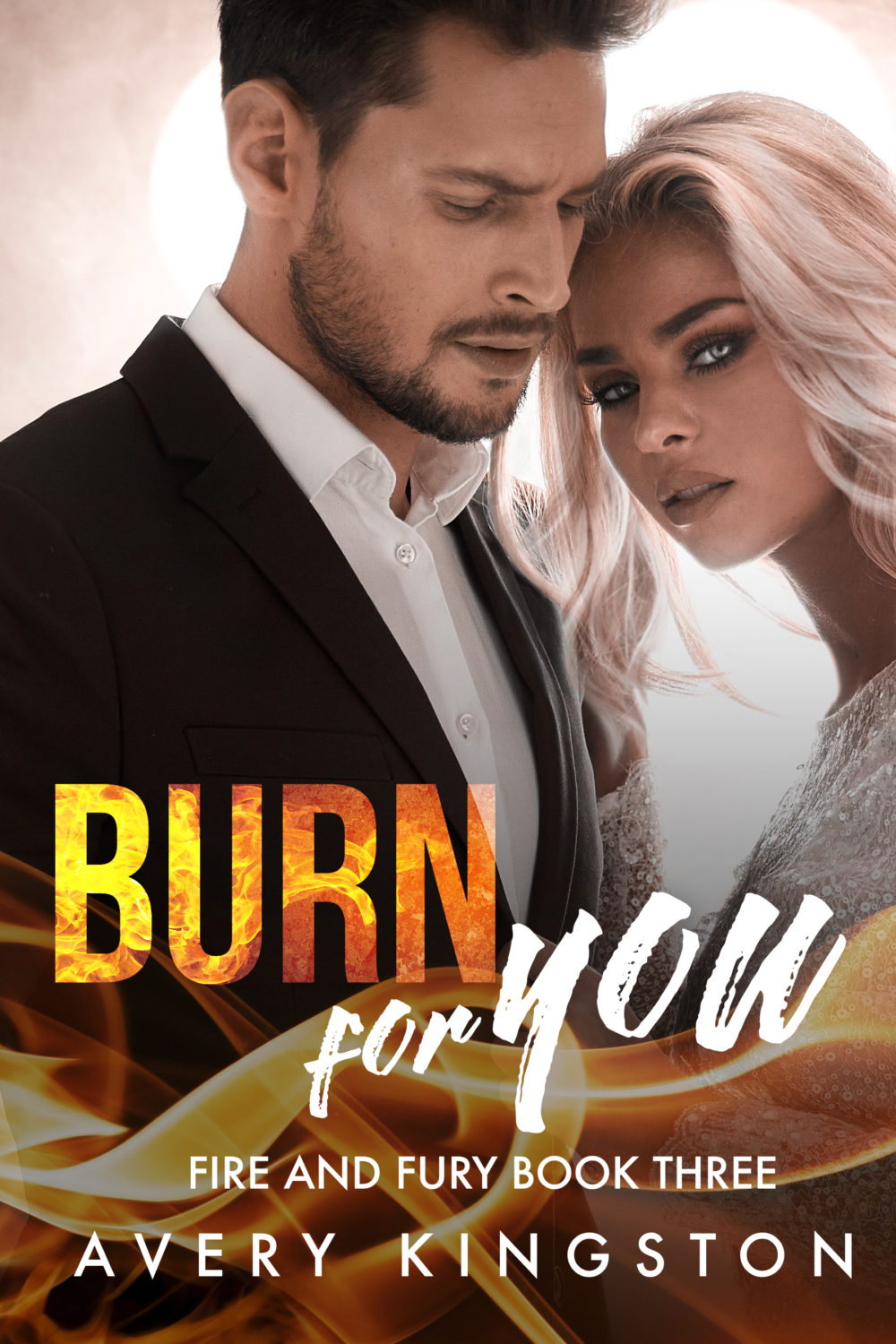 Title: Burn For You
Series: Fire and Fury #3
Author: Avery Kingston
Genre: Contemporary Romance
Formats: E-book and Paperback
Cover by: Avery Kingston
Editor: Writer's Rebirth
Released: November 16, 2018
BLURB
Scott and Tori have promised forever to each other. 
But for a girl whose life has been full of misfortune—forever is a fantasy word that only exists in fairy tales and fables.
In spite of blow after blow Tori still fights to grab onto her happily ever after with Scott. But as the wedding looms on the horizon, the demons of her past resurface with a vengeance—and this time they're dragging him down with her.
For Scott, to sacrifice himself for his bride is not even a question. It's his duty, his honor.
The man goes down; the girl goes free.
That is his mantra. His father ingrained it in him, the military further instilled it in him, and his sons will someday live and die by the same creed.
His headstrong woman believes this shouldn't be his battle to fight, and she'll go to any length to protect those she loves.
"Till Death Us Do Part" takes on a whole new meaning when both are willing to burn for each other.
Burn For You is part three in Scott and Tori's epic love story. You can read part one of Scott and Tori's story in Chasing Fire and part two in Smoke and Mirrors. All novels are full length books featuring a hot-as-hell alpha and a sexy artist who both have filthy mouths. Intended for a mature audience.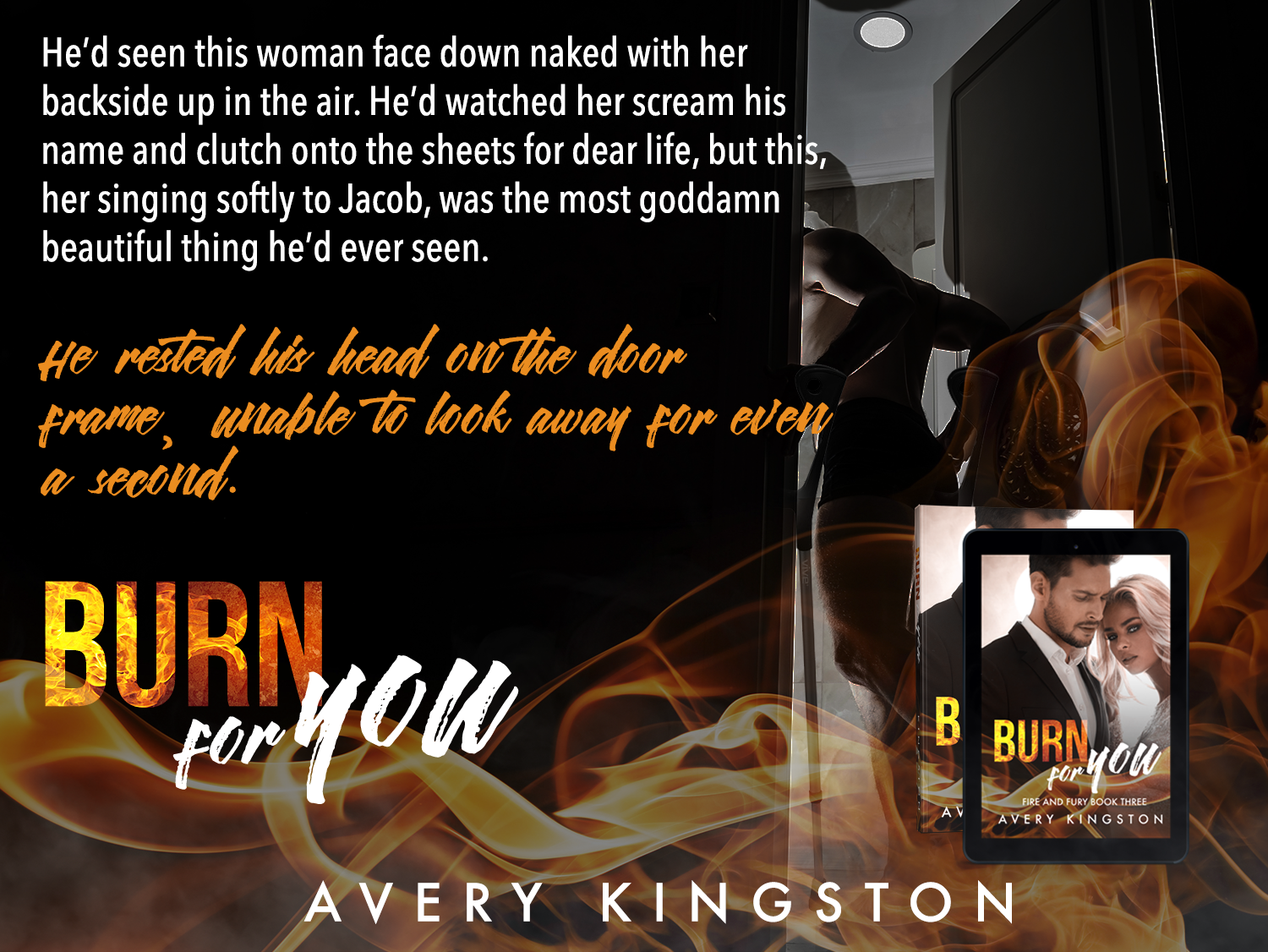 EXCERPT
He flipped on the TV and watched a full rerun of The Office before checking the time. He frowned, grabbed his crutches, and went to check on her. The light from the hallway illuminated the room. Tori lay next to Jacob stroking his hair, singing to him, lulling him back to sleep. She must have heard him because she put her finger up to her lips, telling him to stay quiet as she continued singing.
He'd seen this woman face down naked with her backside up in the air. He'd watched her scream his name and clutch onto the sheets for dear life. But this, her singing softly to Jacob, was the most goddamn beautiful thing he'd ever seen. He rested his head on the door frame, unable to look away for even a second.
The last time he'd heard her sing was a few months ago out on his folk's land. He was just as mesmerized then as he was now. Her voice was soothing to his soul. A smile crept across his face as he watched her with the kids. Tori may not have seemed like the mothering type to those that didn't know her well, but she definitely had it in her. His heart swelled in his chest.
You'll get this. He didn't care how long it took, or how much they had to fight for it. This woman deserved to be a mother and any child would be lucky to have her.
She placed her hand on Jacob's chest to check his breathing. Then, she rolled out of the bed, walked to the door, and reached out, her hand landing on Scott's chest. She rubbed his bare skin and smiled. He backed away, letting her pass.
They settled back into bed and he turned off the light, rolled over, and wrapped his arms around her. His mind swam with the events of the evening: the mess in the kitchen, bathing the kids, her listening to the movie with them, getting them to bed. Seemingly simple things that probably were an uphill battle for her, yet she didn't complain. Not once.
He wanted to tell her how patient and wonderful she was. He wanted to tell her how great of a mother she would be. He wanted to tell her that her blindness didn't matter because she saw more than any person he knew. He wanted to promise to give her babies, and everything her heart desired. Instead, he whispered in her ear, "I love you, baby. Goodnight."

ABOUT THE AUTHOR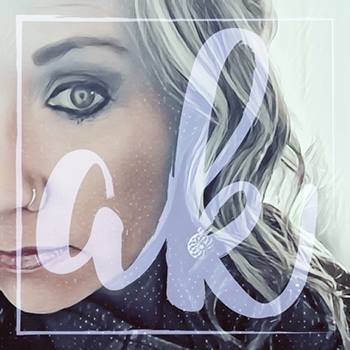 Avery Kingston writes sexy, emotional romance featuring wounded characters at a high heat level.
Avery is a wife to a man who's demons play well with hers. Mom to a slew of crazy kids. Dog lover. Crazy cat lady. Artist. Free spirit. Lover of unusual beauty. Fitness junkie. Collector of boots and fonts. Angsty drama addict and avid wearer of yoga pants.
Avery is a military wife and a sucker for a good wounded hero story. She set out to write stories where the leading characters were smart, sexy, confident and strong. Avery began writing the type of romance novels she would want to read. Stories about real couples, wounded either physically or emotionally, with an open door into their steamy bedroom.
She loves her stalkers!